Application for Employment
An Equal Opportunity Employer
Each question should be fully and accurately answered. No action can be taken on this application until all questions have been answered. All information given will be available only to persons who have a "need to know" or as required by law. This company will make reasonable accomodation in the application process, if needed.
Pays to Stay Local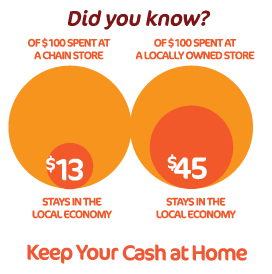 Think about it: would you want $13 or $45? For most people, that is a "no-brainer." Still, we have people shopping at the big box stores taking no thought for how it affects the community feel of our neighborhood.